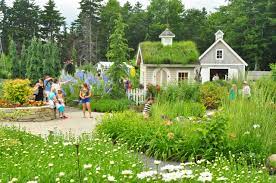 Bowdoinham Library Patrons, their families and their summer visitors are enjoying the passes to the Botanical Gardens. Since initiating the pass program for our patrons in June, the day pass has been issues 30 times, allowing two adults and unlimited children free admission.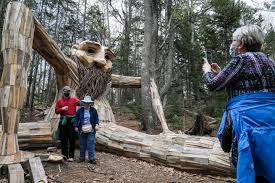 It has been the most popular pass this summer, partly due to the popularity of the current exhibit of the Giant Trolls "Guardians of the Seeds".
Patrons should be aware of the wonderful job the staff at the Gardens do in making the facility fully accessible to visitors of all ages and abilities.
Electric scooters are available to rent on a first-come, first-served basis at the front desk in the Visitor Center. Rentals are $8 for nonmembers and $6 for members. We also have wheelchairs available at no charge, on a first-come, first-served basis — simply ask at the front desk when checking in. For more information, call our offices at (207) 633-8000, or visit the front desk in the Visitor Center.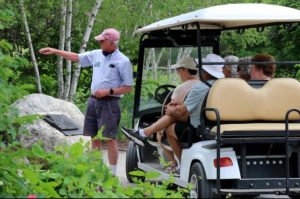 Our one-hour accessible cart tours are led by trained Gardens' docents, rain or shine, on our quiet electric cart. The cart can accommodate up to five (5) people. Seating preference is decided on a first-come-first-served basis. These tours are a wonderful opportunity for those who may not otherwise be able to walk the Gardens.
Tours are offered daily from June 7 through October 17. The fee for the tour is $10 per person, except on Wednesdays when the accessible cart tours are free.