A new grant-funded project will launch this month and continue each month through 2021. Called "Merrymeeting Take & Make" the project is a partnership between Merrymeeting Arts Center (MAC) and the Bowdoinham Public Library.
The Anonimo Foundation approached Kate Cutko in November, anxious to find ways to support arts education in midcoast towns that has been restricted in school districts due to COVID. The Foundation encouraged Bowdoinham to apply for a $5000 grant and to use a model of "Take and Make" kits to extend arts education and materials to Bowdoinham children.  The library immediately partnered with the Arts Center, who had begun producing and distributing Take & Make kits on a limited basis last summer to meet the needs of children during Covid-19.  Mark Dube, Board Chair of MAC generated a list of artists whom we hope to enlist and potential skills to teach each month.
"We are pleased that, in addition to offering art supplies and skills to kids in town, we can help pay some local artists for their work, at a time when many artists have lost income streams." says Cutko. "We love the idea of getting kids away from their computers for a bit of art-making."
"Merrymeeting Arts Center is pleased to work with others in Bowdoinham to extend opportunities for art making to children during this challenging time. Being able to support local artists is an important part of our mission as well", says Dube.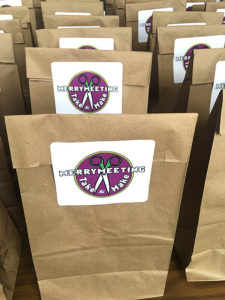 Each month, a new "Take & Make" kit will be launched, containing supplies and instructions for a single art project.  We will distribute 40 kits each month, at no charge, to children in Kindergarten through 5th grade.  Our plan is to enlist both the library and the Food Pantry with help distributing the kits to children in that age group. Our goal is to remove all barriers in getting this art exercise to children each month.
January's kit is now available at the library.  Children grades K-5 are welcomed to come and pick up a kit. Call the library if you need curbside service.  The January project is a small woven bag, designed and "taught" by Suzy Perrine of Woolwich.  Thank you Suzy for kicking off the year in style!